How can anyone describe Delhi, the 5000 year old capital city of the world's largest democracy? Some call it the city of extremes; extreme weathers, from clean areas to congested ones, to open roads to chocking traffic, posh areas to poverty stricken. Whatever it may be, Delhi is best known as 'Dillee Dilwalo ki' which means 'Delhi belongs to large hearted people'. Delhi, the capital India is the largest metropolis by area in India. It is also the eighth largest metropolis in the world by population. The city is also the one of the most historical capitals in the world and has a rich and numerous tourist sites.
The city can be divided into Old Delhi and New Delhi. Old Delhi represents the history of India with mosques, forts and other monuments. New Delhi is the seat of government and houses the government buildings and embassies.
Here are the best places to visit in Delhi:
Pride of Delhi
India Gate – India gate was built as a memorial in honour of Indian soldiers who sacrificed their lives in the Afghan wars and World War I. It is situated along the Rajpath (meaning King's way) Avenue.
Rashtrapati Bhawan – It is the palace for the President of India built in Indo-Western style. It was built before Indian independence for the Governor General of India.
Sansad Bhavan – Sansad Bhavan or the Parliament of India is the supreme legislative body of India. It is a circular building designed by the British architects Sir Edwin Lutyens and Sir Herbert Baker.
Raj Ghat – Raj Ghat is on the bank of Yamuna River and is a memorial of Mahatma Gandhi- 'The Father of the Nation'. It is a black marble platform and marks the spot of Mahatma Gandhi's cremation. There are two museums nearby which are dedicated to Mahatma Gandhi.
Historical Monuments – Places to visit in Delhi
Humayun's Tomb – It is the Tomb of Mughal Emperor Humayun built for his widow Hamida Banu Begum. This tomb later acted as a model for other monuments on which other Islamic monuments where built by the Mughals in India.
Purana Qila – It was the fort built by Humayun in the ancient city of Indraprastha (present day Delhi). Later he was over thrown by Sher Shah Suri who was the founder of the Islamic Sur Empire in the Indian subcontinent. He did some significant modifications to the fort.
Red Fort – The fort was built by Mugal Emperor Shah Jahan and it took 10 years to complete. It is in the walled city of old Delhi.
Safdarjung's Tomb – It is known to be the 'last flicker in the lamp of Mughal architecture'. It is a garden Tomb in marble Mausoleum.
Qutub Minar – It is the tallest minaret in India and has 379 steps to reach the top. It was started by Qutb-ud-din-Aibak and was completed by Iitutmish.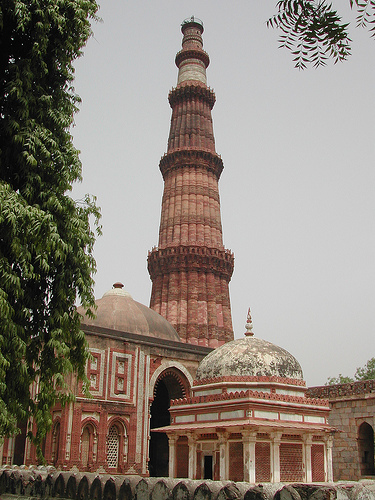 Tughlaqabad Fort – It is a ruined fort in Delhi built by the Gazhi Malik the founder of the Tughlaq dynasty. It was built in 4 years.
Temples and Worship places – Places to visit in Delhi
Akshardham Temple – It is the largest Hindu temple in the world built in the last decade in the year 2005. It is an architecture marvel of modern India built in the style of ancient Indian architecture and encompasses the tradition and essence of Indian spirituality. It has been described as "an epitome of craftsmanship".
Laxminarayan Temple – The temple is also known as Birla Mandir built by the industrialist J. D. Birla in 1938. It is the temple of Hindu goddess Lakshmi and her consort Narayana.
ISKCON Temple – It is a famous Vaishnav temple of Lord Krishna and Radharani in the form of Radha Parthasarathi built on Hare Krishna hills.
Lotus Temple – It is the temple built in a flowerlike shape and hence commonly known as the Lotus temple. It is the Bahai community temple.
Gurdwara Bangla Sahib – One of the largest Gurudwaras in India and the place where the eighth Sikh Guru, Guru Harkrishan lived his last breath.
Jama Masjid – It is the best known mosques in India and was commissioned by Mughal Emperor Shah Jahan.
Cathedral Church of Redemption – It is also known as Viceroy church which was used by then viceroy of India under British.
Museums and other attractions – Places to visit in Delhi
National Agricultural Science Museum and National Museum – Both the museums are the house for the pre-historic to present artefacts and displays.
Jantar Mantar – Yantra means instruments and mantra means formulae. These are the huge instruments built by Maharaja Jai Singh of Jaipur. It consists of 13 architectural astronomy instruments.
Lodhi Gardens – It is park on Lodi road spread over 90 acres of land with historical monuments.
Chandni Chowk – Chandni Chowk or "moon light square" in English is the busiest whole-sale market in India today. It was built by Saha Jahan and designed by his daughter Jahan Ara.
Apart from these there is one more tomb or the monument which is a must see when you are in Delhi. This is not inside Delhi but no one returns home without visiting this place! It is in Agra and it is nothing but the world famous and one of the wonders of the world, the splendid Taj Mahal.
If you have been to Delhi and have your own best places to visit in Delhi, leave a reply.
Hello world, Shalu here!
Connect with me on
Facebook
or on
Google+
, or like the
Facebook page
or follow me on
Twitter
. If you have any questions on India, just send me a message...
Amazing Facts About India
What to learn about India? What to teach your children about India? Are you travelling to India? Here is a simple book that tells you everything you ever wanted to know about this amazing country. My book, India For Kids is designed especially for children but travellers going to India can also take advantage of this simple book. You can find out more about the book here India For Kids: Amazing Facts About India which is available on all Amazon stores.