Delhi is a wonderful city with a fascinating history and a promising future. It's a city of contrasts, where the old and the new exist simultaneously. It is the place where important decisions are made and what direction this nation of a billion people should take is discussed everyday. Despite having only a fraction of the area of Australia, it has a population comparable to that vast continent-size country. In terms of money, it's one of the richest cities in India. However, unlike many other big cities, it has managed to preserve its heritage while keeping in pace with the rest of the world.
Map of Delhi
History of Delhi
There is archaeological evidence to suggest people were inhabiting in Delhi as long ago as third millennium BC. There are signs of urban dwellings going back to 6th century BC. From 12th century to until the arrival of the British in 17th century, it was one of the most powerful cities in the world. The English moved the capital to Calcutta (Kolkata). They later changed the capital to Delhi and since then it's remained the seat of most powerful men and women in South Asia.
Best time to visit Delhi
Delhi is one of the few places where temperatures fluctuate from over 40C in the summers to a little over 0C in the winters. Therefore it's advisable to visit the city when it's neither burning or freezing. September, November, February and March are the best months to come to the city.
There are tons of places to visit when you are in New Delhi depending on what you want to do. For instance, the area around Jama Masjid is popular among food-junkies, while those interested in historic sites don't miss the Lal Qila and Connaught Place is the Delhi's equivalent of Times Square. Here are some of the places tourists generally visit:
(a) Qutub Minar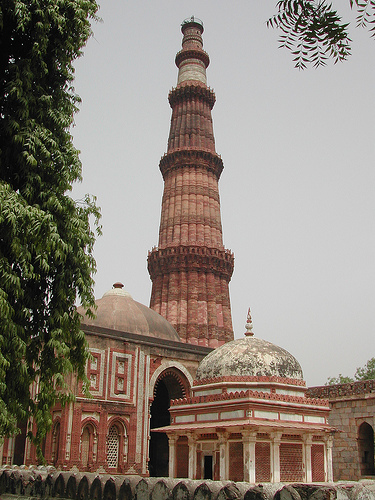 This World Heritage building is the most popular tourist destination in India, attracting over three million visitors a year. The "Minar" (Arabic for "Tower") is a seven storey tower built more than 800 years ago in twelfth century AD to celebrate Mohammed Ghori's victory over Rajputs. Back then it was only one-storey tall. More storeys were added to the original structure by other rulers in ensuing years.
(b) Jantar Mantar
This structure stands in defiance of a common misconception that science is exclusively a European invention. Built in first half of the 18th century this vast sprawl of buildings is an astronomical observatory.
(c) Connaught Place
Named after Duke of Connaught, this city centre was constructed back in the late 1930s. It is one of the most important commercial districts in the city and an upmarket area for shopper where they can virtually find anything.
Then there is Chandni Chownk which offers a glimpse into what the old city was like. And there are thousands of other places. We can't list all of them here, but you can certainly find more information on here on places here to visit Delhi. It is the official website of the Government of Delhi which caters to tourists wishing to visit this wonderful city.
Hello world, Shalu here!
Connect with me on
Facebook
or on
Google+
, or like the
Facebook page
or follow me on
Twitter
. If you have any questions on India, just send me a message...
Amazing Facts About India
What to learn about India? What to teach your children about India? Are you travelling to India? Here is a simple book that tells you everything you ever wanted to know about this amazing country. My book, India For Kids is designed especially for children but travellers going to India can also take advantage of this simple book. You can find out more about the book here India For Kids: Amazing Facts About India which is available on all Amazon stores.