A woman carrying a baby, seemingly sick and sound asleep, running around begging for food or money in the scorching sun is a common sight in India. Heart rendering isn't it? The first reaction would always be to hand out any food or money available to give some sort of comfort to the child. But hold on a second and read through before acting on the very basic human instinct.
Beggars in India is a reality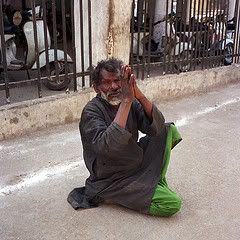 There is more to begging and beggars in India than meets the eye. Poverty is a sad reality about the country. It is a conundrum that is deep rooted and in spite of the efforts made by the Government and the Non Government Organisations (NGOs), it will take considerable time to phase out. The beggars are just one of the by-products of this mess.
Now there may be some who are genuine and forced to beg out of compulsion. But more often than not there are well organized gangs who run begging rackets. Yes unbelievable but true there are big syndicates whose sole source of income is begging. For them begging is the easy way to earn money and they do it by playing on the sympathy of the unsuspecting tourist or passerby.